CP Communications Brings Systems Integration Expertise and AV Innovation to InfoComm
The live event production leader will showcase IP-based, broadcast-quality content acquisition solutions for the AV market
St. Petersburg, Florida, June 4, 2019 — CP Communications, a leader in innovative solutions and services for live event productions, comes to its first InfoComm show with a strategic systems integration vision for commercial AV that includes a new family of IP-based, broadcast-quality content acquisition and streaming solutions. CP Communications exhibits at Booth 4877 from June 12-14 in the Orange County Convention Center (Orlando, Florida).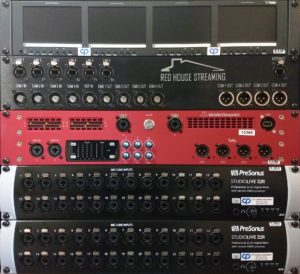 "With more than 30 years of expertise, we offer a straightforward message on how to design, engineer, support and maintain the most cost-efficient AV and production solutions for permanent facilities," said Kurt Heitmann, CEO, CP Communications. "Our AV integration projects with MLB Network Studios, NFL Films Studios at Times Square, and AT&T/Direct TV Studios represent the best of what we do to help our customers make informed decisions for their permanently installed systems."
Heitmann notes that CP Communications' leadership in systems design and infrastructure for large, live broadcast events – including many of the world's largest professional sports productions – differentiates the company from integrators that focus on corporate and education projects, for example.
"We will come to InfoComm with our STREAM line of solutions, which provide an array of IP-based content acquisition options for everything from houses of worship to the largest stadiums," said Heitmann. "However, we excel in highly technical integration services that cover advanced frequency coordination and intermodulation strategies. We'll not only wire and install your systems, but we'll identify the available spectrum at your venue, and make sure your wireless video and audio equipment will work with WiFi, RF radio communications, and bonded cellular networks. We bring a coordinated approach to the table that crosses all AV verticals."
CP Communications' STREAM packages will make their AV industry debut at InfoComm. Part of the company's new Red House Streaming solutions family, the STREAM line allows AV professionals and meeting planners to produce high-impact conferences or events anywhere in North America — and stream them to audiences around the world. Essentially, the STREAM line is a direct response to the changing content creation and distribution requirements in AV and broadcast as IP technology and cellular services grow more reliable and widely available.
The complete range of STREAM solutions, all of which leverage Mobile Viewpoint solutions for multichannel signal encoding, include:
CamSTREAM: A single- or dual-camera acquisition system with streaming support over Ethernet, WiFi and bonded cellular service. CamSTREAM is an ideal plug-and-play, broadcast-quality solution for unattended operations including corporate events, distance learning, and worship services, and modest TV studio productions such as those seen in K-12 schools and universities.
MultiCam STREAM: A scalable multi-camera acquisition camera system for live-streamed and at-home productions, MultiCam STREAM elevates productions with support for four cameras, 32 audio channels and data (including return tally and four-wire intercom) in the base configuration.
Production STREAM: A multi-camera flypack acquisition system for on-site and remote productions with larger I/O signal requirements, with integrated video switching and Dante-enabled audio mixing to support venues and large events.
Heitman adds that the STREAM packages follow CP Communications' philosophy for cost- and labor-efficient systems integration. All packages eliminate the need for customers to assemble systems across multiple vendors and service providers, are simple to deploy and control, and can be set up in a matter of minutes.
About CP Communications
For more than three decades, CP Communications has provided high-quality, cost-effective live event production solutions to major broadcasters, sports leagues and teams, and event and production companies. Our solutions include access to experienced professionals, state of the art equipment, and innovative technologies and techniques for wireless audio & video content acquisition, transport and delivery. Our culture of innovation, coupled with the highest quality assurance standards and passion for customer service, promote collaboration with our clients to determine the best custom solution for each live event.