Barix Bringing Ongoing Advances in RetailPlayer Background Music Streaming Platform to InfoComm 2019
New customization framework, IOT-style architecture and other enhancements to be highlighted as momentum for state-of-the-art multi-site solution grows worldwide
ZURICH, SWITZERLAND, May 16, 2019 — Refusing to become complacent even as adoption of its flexible and cost-effective RetailPlayer multi-site background music streaming system rapidly accelerates, respected Audio over IP leader Barix is continuing to enhance the richly-featured platform with powerful new capabilities. Exhibiting in booth 5457 at InfoComm 2019 (June 12-14 in Orlando, Florida), the company will showcase fresh advances including a customization framework for implementing unique customer requirements.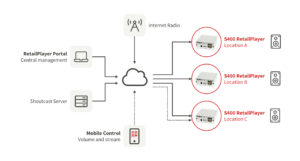 The seamlessly scalable RetailPlayer solution enables retail, hospitality and corporate customers to easily stream background music and messages to any number of locations over the internet. Robust hardware playout devices at each receiving site feature advanced buffer technology for fast channel switching and resilience to varying internet performance, while the cloud-based or customer-hosted RetailPlayer Portal provides centralized configuration, management, status monitoring and stream switching through a web browser or mobile device.
In addition to organizations new to internet-based background music solutions, customers are flocking to the state-of-the-art RetailPlayer solution from competing products and earlier Barix offerings. "Hundreds of customers have been using our earlier Exstreamer 100 units as background music players, and many of them are moving to RetailPlayer for its enhanced buffer management and IOT-style architecture," said Reto Brader, CEO, Barix. "Meanwhile, competitors' customers are switching to RetailPlayer because of its rich feature set, ongoing development, and extensibility to grow with them. As full-featured as RetailPlayer already is, we are continually advancing it to make it even better."
Foremost amongst the new RetailPlayer enhancements to be shown at InfoComm is the FLEXA customization layer, while allows the RetailPlayer system and hardware endpoints to be adapted for customers' unique requirements. First introduced in Barix's boundlessly-programmable Barionet automation interface controllers, FLEXA provides a flexible framework to implement users' bespoke feature requests. In one recent example, special capabilities were added to RetailPlayer hardware endpoints to read customer-specific metadata from the audio streams and forward it over IP to digital signage systems at the playout location.
"Customers with uncommon applications or creative use cases typically must depend on their vendors to add features to meet these needs, but if they're the only client who has asked for the capabilities, the vendor might not do it," said Brader. "That stifles innovation. By adding FLEXA to RetailPlayer, we are taking customization to a whole new level with a framework that enables customers to address their unique ideas themselves."
RetailPlayer follows the latest IOT architecture approach to combine high-performance operation with stringent security. For example, if a RetailPlayer administrator allows local users to change streaming channels, the user is not directly controlling the hardware endpoint; instead, user interactions are sent to the central server, which in turn talks to the local device. These fast communications enable a highly-responsive experience as if the user were directly controlling the hardware, but with a level of security only achieveable through a centralized method.
Other new RetailPlayer features on display at InfoComm will include advanced user permission management and enhanced status reporting in the player devices. These capabilities join recently-added functionality unveiled earlier this year at the ISE show, including stream and local-playlist failover to overcome network connectivity issues; enterprise-scale hierarchical management of high numbers of endpoints; QR code-based smartphone control of local player devices; new deployment and integration options; and more.
"While some of our competitors are slowing or ceasing development of their products, Barix is ramping up," concluded Brader. "We are committed to RetailPlayer's ongoing development, and now offer a framework to address one-off requirements via FLEXA. We invite customers to experience the benefits of RetailPlayer first-hand by visiting us at InfoComm or requesting a free trial of the system."
Barix: We Move Audio (www.barix.com)
Barix supplies simple and reliable solutions and components to systems integrators and end users worldwide.  We move high-quality audio across IP networks, adding value to customer solutions for more than a decade with hundreds of thousands of devices installed worldwide.  Background music distribution with dynamic advertising insertion for retail shops, bars and hotels; public address solutions for schools and public spaces; and intercom and entry systems for facility surveillance, protection and security are among the many applications of Barix solutions.  Barix also supports OEM projects for a number of Global 500 listed companies serving many industries worldwide.