Barix to Host "Virtual NAB Booth" with Broadcast Product Presentations and Discussions
Online event will combine new solution introductions with private 1:1 meetings
ZURICH, SWITZERLAND, April 8, 2020 — Audio over IP innovator Barix will present its latest broadcast products and host individual meetings with broadcasters, audio professionals and systems integrators as part of the company's "Virtual NAB Booth" from April 20-22, 2020.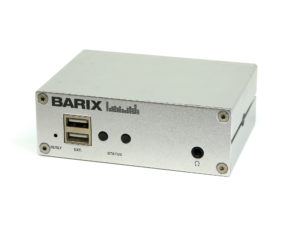 "As we won't have the opportunity to meet broadcasters and partners in person in Las Vegas as usual this year, we have created a version of the Barix booth in our office – with everyone staying 2m apart, of course," said Manuel Merki, Head of Marketing at Barix. "Just as we would at the physical event, we're offering both an open product tour at our booth and private meetings, but online. We're always happy to talk to clients one-on-one at any time of the year, but with users and integrators actively planning their projects for when the world opens back up, this is an excellent time for them to learn about our new products and discuss their needs with us."
Barix will present its latest broadcast product news on April 20 in three sessions, allowing attendees around the world to choose the most convenient time for their region: 10:00am CEST, 2:00pm CEST and 1:00pm EDT (10:00am PDT). Topics will include the new M400 SIP Opus Codec, uncompressed STL solution and Silence Monitor audio assurance device, as well sneak previews of upcoming new products.
The company is also offering one-on-one, online meetings with customers and prospects to privately discuss specific topics, projects and products of interest. Time slots are available April 20, 21 and 22.
To reserve a spot in the broadcast webinar or schedule a one-on-one meeting, please visit www.barix.com/virtual-nab.
Barix: We Move Audio (www.barix.com)
Barix supplies simple and reliable solutions and components to systems integrators and end users worldwide.  We move high-quality audio across IP networks, adding value to customer solutions for nearly two decades with hundreds of thousands of devices installed worldwide.  Background music distribution with dynamic advertising insertion for retail shops, bars and hotels; public address solutions for schools and public spaces; and intercom and entry systems for facility surveillance, protection and security are among the many applications of Barix solutions.  Barix also supports OEM projects for a number of Global 500 listed companies serving many industries worldwide.