GatesAir Promotes Mark Goins to Vice President of North America Sales
Mark will manage the entire North American sales team while executing annual plans and sales targets
CINCINNATI, November 16, 2020 — GatesAir, a global leader in wireless, over-the-air content delivery solutions for TV and radio, announces the promotion of Mark Goins to Vice President, North America Sales effective immediately. Mark will lead an experienced team of North American representatives across regional sales management, key accounts and inside sales, and work with GatesAir executives to develop annual strategic initiatives for improved growth and support. He reports to Chief Revenue Offier Joe Mack.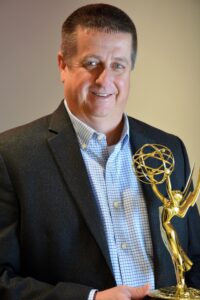 Mark entered the broadcast industry upon joining Harris Corporation 19 years ago, and made the transition to GatesAir when the company was formed in 2014. He has gradually worked his way up the ladder, beginning with an inside sales position and becoming Senior Director, North America Sales upon transitioning to the GatesAir team. In between, he served as Strategic Account Manager and Regional Sales Manager, which provides him the diverse experience required to successfully lead the current North American sales team.
Mark sees ample opportunity for business growth in North America, and looks forward to supporting emerging customer needs with NextGen TV, HD Radio adoption, and single-frequency networks (SFNs) for TV and radio. He also anticipates broader opportunities for GatesAir's Intraplex range as business models and networking opportunities expand with the Audio over IP transition.
"We are coming off a very successful TV repack initiative where we enjoyed the largest market share, and we intend to build on these strong customer relationships to deliver all the new possibilities that NextGen TV offers," said Goins. "There is also a large percentage of TV stations unaffected by repack that require high-efficiency, solid-state transmitters to reduce their operational costs. That same high-efficiency technology will benefit our radio customers, whether they are replacing analog systems, adding HD Radio services, and/or establishing SFNs. Whether transmission or Audio over IP networking, our core focus remains providing excellent customer service and products that broadcasters can rely on."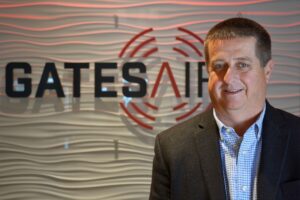 "Mark has successfully built lasting customer relationships and delivered strong results over his career at GatesAir," said Bruce D. Swail, CEO, GatesAir. "His experience makes him the perfect replacement for Joe Mack, who very recently transitioned to a global sales management role as CRO. We are confident that Mark's transition into this important position will be seamless, and we look forward to his contributions in this expanded role."
"I've had the pleasure of working with Mark for nearly 20 years, and he brings a broad skillset and leadership qualities to this position that will ensure a collaborative team environment and long-term success," said Mack. "I'm thrilled to continue to work with him in leading our North American sales operation."
About GatesAir   
GatesAir, Inc., a portfolio company of The Gores Group, provides complete solutions for over-the-air radio and television broadcasting, leveraging wireless spectrum to maximize performance for multichannel, mission-critical services. Powering over-the-air networks worldwide with unparalleled reliability for nearly 100 years, GatesAir's turnkey solutions enable broadcasters to create, transport and transmit radio and TV content.  With customers in more than 185 countries, the company leads the industry in innovation and design breakthroughs, improving efficiency and reducing total cost of ownership with all products designed and assembled in the USA. Visit www.gatesair.com for more information, Like us on Facebook https://www.facebook.com/gatesair, and follow us on Twitter at @GatesAir.
About The Gores Group
The Gores Group, founded in 1987 by Alec Gores, is a global investment firm focused on acquiring controlling interests in mature and growing businesses which can benefit from the firm's operating experience and flexible capital base. The firm combines the operational expertise and detailed due diligence capabilities of a strategic buyer with the seasoned M&A team of a traditional financial buyer. Over its 30-year history, The Gores Group has become a leading investor having demonstrated a reliable track record of creating value in its portfolio companies alongside management. Headquartered in Los Angeles, The Gores Group maintains offices in Boulder, CO, and London. For more information, please visit http://www.gores.com.