InReality Provides Holistic Guidance on Safe Space Strategy
FOR IMMEDIATE RELEASE
New InReality White Paper Provides Holistic Guidance on Safe Space Strategy
"The 6 Ps of Safe Space Strategy" is the latest resource in InReality's Learning Center to help resellers and their clients navigate the Safe Space landscape.
Atlanta, GA, October 29, 2020 – InReality, LLC, a leading venue analytics software solution company, has launched a white paper to support strategic planning when creating a Safe Space ecosystem of prevention. "The 6 Ps of Safe Space Strategy" takes a holistic view and includes guidance on factors relating to people, process, place, pixels, proof and profit.
Adding To a Robust Safe Space Resource
The white paper is the latest resource in InReality's recently launched Learning Center. The online article repository fills a knowledge gap and shares learnings that help businesses make informed decisions in a rapidly changing environment. Based on first-hand observations and industry conversations, the Learning Center was created to help educate resellers and limit their risks so that they may do the same for their clients.
"We created this white paper to help businesses create an ecosystem of prevention," says Laura Davis-Taylor, InReality's Chief Strategy Officer. "This starts with thinking about how to protect people and businesses, both physically and fiscally. There is a lot of gray area between what a business should do and what they are mandated to do. It's crucial to take a wide-angle view in order to identify and shore up any areas of potential risk."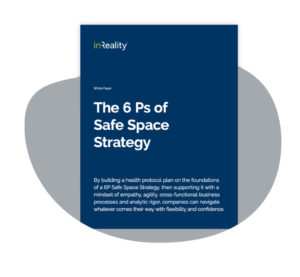 What Are the 6 Ps of Safe Space Strategy?
Taking a holistic view of Safe Space strategy means considering the following factors:
●       People — Customers and employees alike must feel safe within a business.
●       Process — Businesses must account for government mandates along with internal HR and legal policies.
●       Place / Physical — Consider customer experience, comfort level and communication when implementing physical Safe Space procedures.
●       Pixels — New and emerging technology tools can help automate Safe Space processes and manage data.
●       Proof — Public perception and proof of corporate compliance are equally important.
●       Profit — Automating Safe Space processes, tracking the cost of lost business and avoiding lawsuits tie directly into a business's bottom line.
A Joint Industry Effort
"This white paper and the Learning Center itself is a labor of love," says Davis-Taylor. "The industry is a very tight knit community and the only way we will solve these new issues is by sharing knowledge. It's our job to enable the industry by sharing what we're seeing and learning, and hopefully give others a springboard for their strategic planning."
InReality has been in the trenches of this new territory with key ecosystem partners, many of whom share their thoughts within the white paper. Industry partners in this pursuit for insight include Legrand | AV, BrightSign and Elo. The industry is encouraged to link to the Learning Center and sign up for updates. Reach out to Laura Davis-Taylor at ldt@inreality.com to suggest topics for consideration as Learning Center content is updated regularly.
Access the white paper at https://info.inreality.com/the-6ps-whitepaper, and visit InReality's Learning Center at https://info.inreality.com/the-6ps-whitepaper.
About InReality
InReality is a venue analytics platform that transforms any tracking, measurement and influencing technology into the metrics that matter most. They do it by harnessing data from IoT sensors and other measurement and influencing technologies into one simple platform that produces only the most critical KPIs, then enabling predictive or personalized responses. With it, venues can both prove and improve their 'phygital' touch points across multiple locations at scale, but without the complexity or limitations of multiple sensors and disparate dashboards. Owners and retailers make their spaces safer and more meaningful for their patrons, and brand advertisers finally get the analytic ammunition they need to optimize their strategies and defend their marketing spend. To learn more or discuss how InReality's platform can optimize your Safe Space Solutions, go to www.inreality.com or email us at sales@inreality.com.