Visix Releases AxisTV Signage Suite v.1.38 with New HTML5 Viewer and Template Designer
ATLANTA, GA – October 20, 2020 – Visix, Inc. has released version 1.38 of its AxisTV Signage Suite digital signage software. This latest update includes a new template designer in the browser-based CMS, as well as an HTML5 message playlist viewer that's designed to help communicators better reach remote employees, students and staff.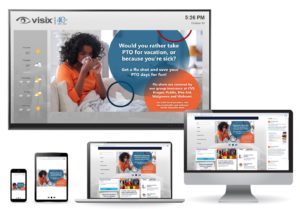 "A lot of folks are working or studying from home right now. But organizations still need to communicate with them," says Sean Matthews, president and CEO of Visix. "Our new playlist viewer is just the first step in our plan to address remote communications. Instead of our clients having to recreate communications across different platforms like digital signs, websites and email, we're giving them a way to design it once and share it anywhere with a simple URL."
The new HTML5 viewer lets clients publish their digital signage playlists to a unique URL. The link can be shared directly for fullscreen playback in popular browsers, or the viewer can be embedded into websites and intranets using a simple iframe. Clients can assign more than one playlist to a feed, and can choose playback options and transitions. Because the feed is published using HTML5 markup, the playlist messages and videos scale accurately for any screen size.
The AxisTV Signage Suite CMS already offers over 900 fill-in-the-blank templates for quick messaging. The new Pick & Fill Template design hub lets clients create their own fillable templates in the CMS without having to work in the desktop designer. System users can then choose, fill and schedule templated messages in the browser-based CMS.
To see the full release notes and request the update go to visix.com/client-support/visix-software-updates. For more information about AxisTV Signage Suite, visit visix.com/products/digital-signage-software.
About Visix
Visix, Inc. offers a robust suite of digital signage software, content designs and meeting room signs for any organization wanting to engage, excite, and inform their audiences. Our products work separately or together, are competitively priced and scalable, and have powerful interactivity and data integration features for a unified, enterprise signage solution. Our award-winning service and support teams consistently rank the highest in customer satisfaction for fast, professional responses and solutions. Learn more about Visix digital signage products and services at www.visix.com.